After months of development and awareness to the hospitality industry the UK pub accommodation guide Pub Rooms is proud of the latest in a number of free services aimed at helping local business find pubs to stay.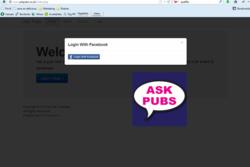 The Ask Pubs app highlights pubs and inns across the UK who have last minute accommodation availability and room hire suitable for business and tourists. The Ask Pubs app will be free to use by both pubs and inns and customers looking to find rooms.
The app will allow function room hire details to be added too.
Most pubs across the UK do not use rooms suitable for private hire or small functions because they are full of stock or used for storage. Identifying the growing need and desire by local businesses for affordable room hire, Pub Rooms ran a campaign to get pubs with rooms for function hire to use them. Now the app puts businesses in touch with pubs at the click of a search. As the number of pubs joining the scheme, the hope is that local businesses will bring life back into local pubs.
For more information on the Ask Pubs app and Pub Rooms accommodation features for business contact pubs rooms directly on 0845 3881071.